20+ Neat And Functional Bathtub Surround Storage Ideas
Let's face it – bathrooms are usually small. In fact, most people probably underestimate the importance of a bathroom and the space that is needed in order to house all of the appliances and furniture needed to perform a full hygiene routine as well as store all of the products and accessories that make those tasks possible nowadays.
With this in mind, it is important to find a storage solution that fills out a few criteria, among which are not occupying a lot of space, being easily accessible and being easy to clean and organize. Struggling with finding your ideal solution? The following pictures all fill out the criteria we just mentioned, so there might be something here for you to try and implement as a new storage space for your bathroom.
Rustic Ladder with Wire Basket Boxs
This ladder-style rack of wire boxes is a great, original and space saving storage option for a bathroom or kitchen area. The neutral color allows it to go well with almost anything, but it is best suited for a rustic or shabby chic decoration. Via pennyharrisonandcompany.
DIY Floating Shelves for $15
These wooden, floating shelves are easy to make and install, and they fit just about anywhere, which means they are great for tight spaces. You can leave them natural for a more organic look, like in the picture, or easily paint them to match your decoration. Get the tutorial via shanty-2-chic.
Top of An Old Hutch Painted and Upcycled Into Shelves For The Bath
These shelves look so perfect and beautiful in their intricate, pastel colored glory, that you might not even believe that they used to be the top of an old hatch. They also fit perfectly above the bath, which makes this project a 100% successful. Via stylefromthesticks.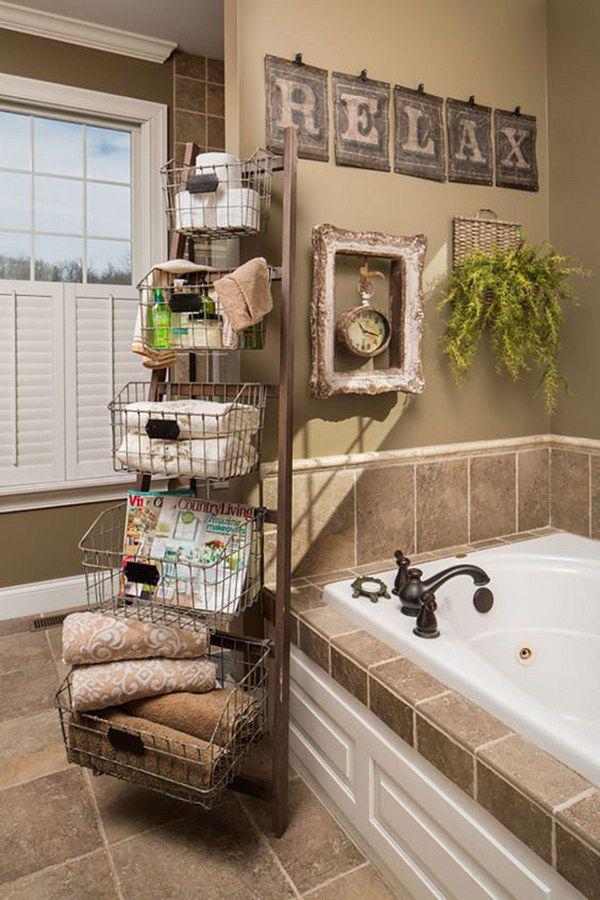 DIY Bathroom Open Shelves
Get the tutorial via ellaclaireinspired.
Coat Hooks Instead Of A Towel Rod
These coat hooks work really well in the place of a normal towel rod, especially if you need or are used to having multiple towels in your bathroom at all times. The style of the piece is beautiful with its contrasting colors, and the fact that it can also offer extra space for placing decorative or functional items on top is a definite advantage. See more instructions via following-friends.
Functional "Hutch" At End Of Tub
Via sublime-decor.
Creative Beneath BathTub Storage
It isn't usual at all to see a storage unit under the bath, but it certainly works in this case. The unit is perfectly mounted and color matched to the bath itself, and the wire baskets inside help keep items accessible, contained and organized. Via hative.
Bathtub Toy Storage
This rack of plastic baskets is not only functional as a toy holder, but it also adds a fun twist to the decoration, as they leave bath toys and other children's items clearly visible. The fact that they are white allows it to match the bathroom appliances while not clashing with the toys themselves. The plastic material is safe for everyone as well as easy to clean, and the holes in the bottom ensure that the baskets will never be filled with water. Get the tutorial via blueistyleblog.
Built In Storage Above A Bathtub
Built In Shelving Over Drop In Tub
Via ultimatechristoph.
Bathtub In Studs Shelf
Via hgtv.
Open Shelf Storage Above Tub With Pull Out Hamper Cabinet
This storage option is a very interesting mix of elegant and somewhat rustic. The polished, cream open shelf matches the rest of the decoration, while the functional, metal rods below add a touch of rustic, yet modern functionality – and it all works perfectly together. Via decorpad.
Open Shelf With Rods And Baskets To Hold All The Little Things
Shelf Around Clawfoot Bathtub
This white shelf is discreet and well-matched to the bathtub it surrounds. It is quite compact, and fairly sturdy, but it is also only meant to hold decorative items or those that you absolutely need to have on hand when taking a bath, though. Via modernhepburn.
Pull-Out Bathroom Storage
DIY Bathtub Caddy Tutorial
Get the tutorial via ehow.
Over The Bathtub Towel Rag With Hooks
This beautiful, two-toned towel rack serves a dual purpose – the hooks hold your towels, while the top serves as storage, so you can have all you need handy when you want to take a bath. Via pinterest.
Over The Bathtub Ikea Ekby Shelves
Get the tutorial via thefrugalhomemaker.
Great Surround The Bathtub Storage
Via houzz.
Bathtub Organizing Storage Shelf
Tiered Storage Next To The Tub
This brass-colored, wire rack tower wasn't likely made for the bathroom, but it does serve the purpose of holding soaps, hair accessories and the like very well, and it will add a different, shabby chic twist to any bathroom decoration. Via theletteredcottage.
Hanging Fruit Basket For Bathtub Toy Storage
Get the tutorial via 8footsix.
Built-In Drawers Between Wall Studs
Pull Out Hidden Cabinet
Via flickr.