5 Accessories You Need for Your Shower
If you're like most people, and you're constantly out of breath after a long day, you'll need to take a shower. It's a great way to unwind and relax. But did you know that many accessories can make your shower experience more enjoyable? In this blog post, we'll discuss some of the fun, practical shower accessories on the market today, so keep reading!
Shower Mat
A shower mat is an essential accessory for any shower. Shower mats are available in a variety of materials, including rubber, vinyl, and fabric. It provides a nonslip surface for you to stand on, and it also helps protect your floor from water damage.
Fabric shower mats are the most absorbent and can help prevent slips. They're also the most difficult to clean, so be sure to machine-wash them on a regular basis. Rubber and vinyl shower mats are easier to clean, but they're not as absorbent. When choosing a shower mat, it's important to consider individual needs. Some people may prefer pads that are easy to clean. Some people prefer pads that are more waterproof.
Shower Head
Shower heads are an indispensable shower accessory, and there's a reason: they help save water while also enhancing the quality of your shower. Showers today come in a variety of styles and finishes. If you're looking for a luxurious relaxation experience, you can choose a shower with a variety of settings.
For example, some showerheads offer a pulsing massage setting that can help relax aching muscles. There are also showers equipped with LED lights to create a calming atmosphere in the bathroom. The trickle from the shower head can also promote blood circulation throughout our body, which in turn makes us feel comfortable.
Shower Filter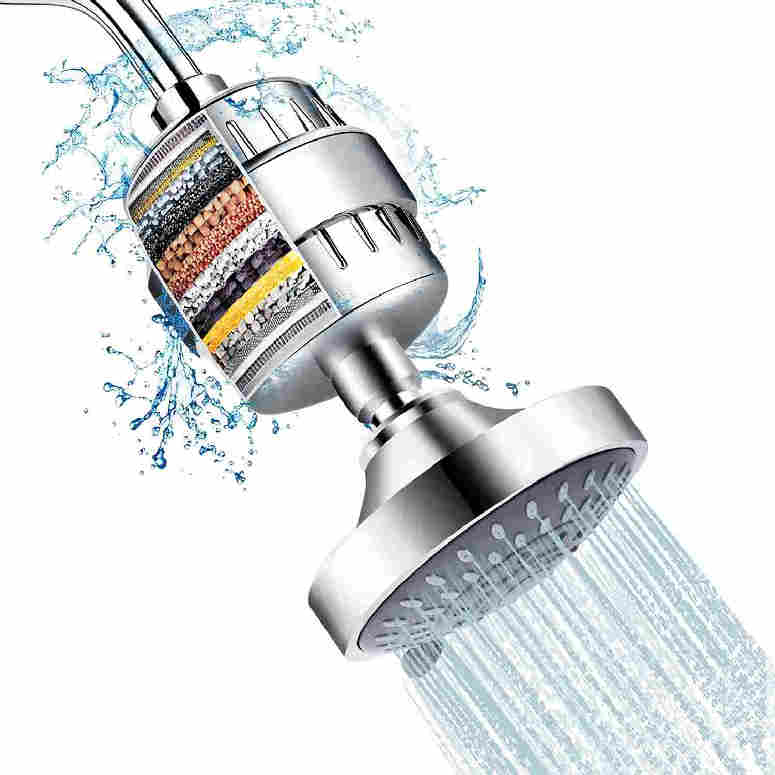 One of the best ways to improve your shower experience is to install a shower filter. Shower filters help remove impurities from the water, which can make skin and hair softer.
If you live in an area with hard water, a shower filter can be a godsend. It helps improve water quality, thereby protecting your pipes from damage caused by water dirt. Shower filters are easy to install and require no special tools or equipment. Plus, they're relatively inexpensive, making them an essential investment in any bathroom.
Shower Curtain
No shower is complete without a shower curtain. A shower curtain is an important bathroom accessory for several reasons.
First, it helps protect the wood floor from water splashes. Second, a shower curtain can provide privacy while you are showering. It's important to feel relaxed and comfortable in the shower, and a shower curtain can help you feel more private. Finally, shower curtains can also help protect your bathroom from mold and mildew. Bathrooms are usually humid environments and shower curtains can help bathrooms achieve wet and dry separation, which can help keep the air dry and prevent the growth of mold.
Shower Rail
Shower rails are one of the most popular products on the market today. This is because it offers advantages that many consumers find very useful. One of the biggest advantages of the Shower rail is that it increases the mobility and stability of the person in the shower
The Shower rail slides up and down on the track to accommodate different shower heights. So bathing kids and pets is a breeze. Shower cleaning is also made easier by adjusting the overhead shower rail for people of different heights in the household.
Conclusion
These are just a few of the many great shower accessories on the market today. So if you want to improve your shower experience, be sure to check it out. You won't be disappointed! thanks for reading!