Do Two Twins Make a King Bed? (Exact Measurements)
At times we are compensated for the links you click at no cost to you. Learn more about why you should trust our reviews and view our disclosure page.
---
Not really, but you can still make use of two Twins. A regular Twin bed is slightly shorter than a King, but its width is exactly one half of a King. When you put two Twins together you'll get a wide bed resembling a King, except that it's five inches shorter. However, if you put two Twin XL mattresses together, they'll match the King frame perfectly and you will get a real King (or, more accurately, a Split King).
---
Twin Size Mattresses vs. King Size Mattresses
A Twin bed is made for a single teenager or average/short adult to sleep in, so it's not too wide and not too long, whereas King beds are specifically meant for adult couples. Here's the difference between a Twin and a King size:
Sheets
As we mentioned, two Twins would make a short version of a King bed. King sheets can fit well if you have a regular flat sheet, so you can just tuck the excess in. Fitted King-size sheets could be a problem here because if they are larger than the actual mattress, they fail to serve their purpose which is to be tight and stay in their place.
---
Twin XL Mattresses vs. King Mattresses
Twin XL is longer than a regular Twin but they have the same width. It is meant for single adults. Adult couples would need that size times two. That's why two Twin XL mattresses are exactly the same size as one standard King.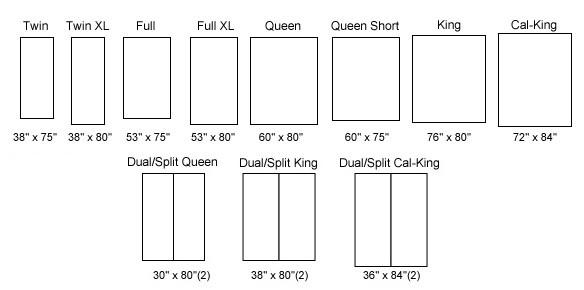 Sheets
You can either use two Twin XL sheets or one King sheet to cover the two beds. Both will do a good job of covering your mattresses. Just bear in mind that two sheets will make the gap visible and you may lose your phone or other belongings in it, while one sheet will cover that problem up.
---
How to Make a King Out of Two Twin Mattresses
Whether you want to make a true King bed or a "short" King with two Twins, there are some things you should consider.
4. For extra comfort, get a mattress pad or a topper (we recommend Lift by Amerisleep). Mattress pads are soft and they typically feel like having a couple of soft blankets between you and the mattress. Toppers are thicker and have a specific purpose – they are either made to make your mattress firmer or softer. Either way, both a pad and a topper can help disguise the raised middle part of the bed.
5. Compensate for the shorter mattresses. If you use two regular Twin mattresses on a King frame, you'll end up with some extra space on one side. Push your mattresses to the bottom, and leave the empty frame space in the head area. Then add an upholstered headboard. If you're a DIY person, you can make one. If you use two Twin XLs, no need to fill in the space since you'll have a true King-sized bed. Still, that shouldn't stop you from adding a headboard if you like the idea of having one.
Here's a quick tip: If you're a fan of bed skirts, bear in mind that a bed skirt on a metal frame may be too slippery. You can easily fix this with a non-slip rug pad. Just place it under the bed skirt and your mattresses will be set in place.
---
What's a Split King Size Bed?
A Split King is the same as a King-size bed but divided into two mattresses. When you buy it, you'll basically get two Twin XL mattresses.
The main benefit of this bed is that it has literally zero motion transfer. No mattress can give you so much protection from your partner's movements. But that's not all – you can choose two different firmness levels or two completely different mattress types to accommodate your unique sleeping style. That's one extra point for Split King against King.
Amerisleep, for example, even has an adjustable bed frame of this size. You can adjust each half of the bed separately or lock them together in order to move both at the same time.
---
What Bed Sizes are Good for Adults?
The Queen-size bed is the most popular bed size among US sleepers. With measurements of 60″ x 80″, it's long enough for the majority of tall people and wide enough for a lot of couples.
A standard king-size mattress (76″ x 80″) is for larger people and for couples who like to have extra room between them. It's an entire 16″ wider than the Queen mattress.
Really tall people will love California King for its extra length – 4″ more than the traditional King. It's just slightly narrower. It measures 72″ x 84″.
Single people may choose between a Twin-size mattress and a Twin XL. Both are 38″ wide with a Twin being 75″ long while a Twin XL has the standard length of 80″. Individuals shorter than 5.5 will probably be fine on a Twin, but everyone taller than that should focus on the XL size. Twin-size beds are typically a choice for a growing kid.
Another option for petite sleepers is a Full-size bed (53″ x 74″). It's long enough for short people and wide enough for a single adult who likes some extra space or for a petite couple who like to sleep close to each other.
---
What Mattress Dimensions are the Best for a Guest Room?
If you want to get a bed to accommodate (hopefully) all guests that may sleep over at your place – singles and couples – you should choose a Queen bed.
You can put two Twin beds together to make one nice, wide bed, especially if your guests are typically your kids' friends or if your family and friends aren't exactly basketball players. Otherwise, use two of the longer Twin beds (Twin XLs) to make a King.
---
Two Twin XL Mattresses vs One Split King Price Difference
If you want to save some cash by getting one Split King Instead of two Twin XLs, you are probably going to get disappointed. Most bed-in-a-box companies, such as Molecule or Dreamcloud, don't even have a Split King option. You can only make your own out of two XL Twin mattresses, but that doesn't bring you any discounts.
Even companies that do offer a split wide bed (like Amerisleep) price them exactly as two Twin XLs.
---
Related product reviews:
Psst… the sleep review industry is full of liars, sharks, and thieves. It's a modern-day version of getting ripped off at your local mattress store. So, why should you trust us?