King vs. Queen Bed: Size and Comparison Guide
Debating between a king vs. queen bed? When it comes to mattresses, one size doesn't necessarily fit all.
While a king might be better for those sharing the bed, a smaller queen can fit into tighter spaces. From your height to your budget, there are several other reasons why you might prefer a queen vs. king mattress.
If you're ready to dispose of your old mattress and replace it with one fit for a queen or king, you'll want to make an informed decision. Keep reading to learn the key differences between a king vs. queen bed and how to pick the right size for you.
Shop our award-winning king and queen size mattresses for more room to sprawl at prices that won't break the bank.
Shop Casper Mattresses
King vs. Queen Bed Dimensions
The size difference between a queen and king bed is the main component separating the two options. Standard king mattresses are 76 inches wide and 80 inches long with a surface area of 6,080 square inches. Meanwhile, standard queen mattresses are 60 inches wide and 80 inches long with a surface area of 4,800 square inches.
Since both sizes are the same length, the real deciding factor between a queen vs. king bed is how wide you'd like your mattress to be. For people who prefer a bit of wiggle room, a king mattress is 16 inches wider than a queen. On the other hand, the reduced width of a queen bed makes it ideal for smaller spaces.
Shop King Mattresses
King vs. Queen Comparison Chart
Queen Mattress
King Mattress
Dimensions
60″ x 80″ /
152.4 cm x 203.2 cm
76″ x 80″ /
193.04 cm x 203.2 cm
Surface area
4,800 in² /
30,967.68 cm²
6,080 in² /
39,225.73 cm²
Price
Cheaper
More expensive
Best for
Couples or adults with small bedrooms
Couples or adults who want more space
Recommended bedroom size
Smaller primary bedrooms
Larger primary bedrooms
Beyond the basic dimensions, there are several other factors to consider when deciding between a king vs. queen mattress. Here's a more in-depth comparison between the two bed sizes:
King Mattress
Queen Mattress
To understand how these mattresses stack up against other bed sizes, take a look through our mattress size comparison guide.
King vs. Queen Pros and Cons
Still not sure which mattress is best for you? Check out the pros and cons of queen vs. king mattresses based on the following considerations: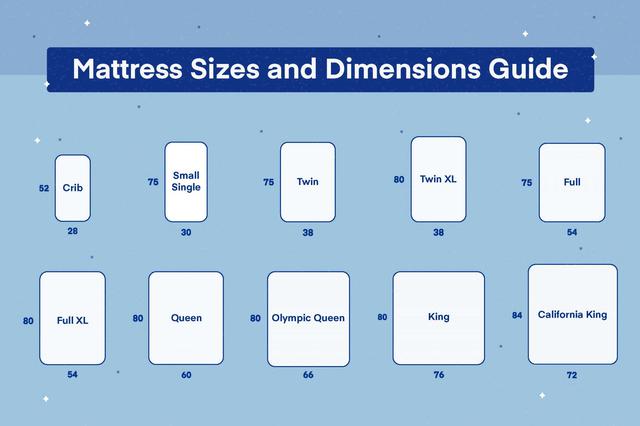 Price
Since king mattresses are bigger than queens, they tend to be priced slightly higher. If you're looking to spend a little less, you might prefer a queen mattress. For others, the added space of a king bed can make it worth the cost.
If you want the crown jewel of the mattress market without breaking the bank, check out how we keep our costs low and our quality high. For example, Casper queen foam mattresses cost between $695 and $2,895, while Casper king mattresses cost between $895 to $3,495. Now that's what dreams are made of!
Comfort
When deciding between mattress sizes, thinking about comfort is key. If you like to sprawl out under the covers, the larger surface area of king size bedding can provide the space you need. However, those who prefer a snug sleeping arrangement might find queen beds more appealing.
Whether you're leaning toward a king or queen bed, studies have shown that mattress comfort is directly linked to better sleep quality. That's why you'll want to consider which type of mattress will make you the most comfortable.
If you're looking for snooze-worthy comfort, the Nova Hybrid is a luxuriously plush mattress with seven zones of support to help keep your spine aligned, while the Wave Hybrid Mattress is engineered with continuous ergonomic zones and gel pods to help ease back pain.
The Nova Hybrid
For those who want a plush top layer without sacrificing support and cooling.
The Wave Hybrid
Our most advanced mattress. The Wave Hybrid has hyper-targeted support combined with active springs, allowing better airflow.
Other Sleepers
While sleeping beside others might give you a better night's rest, it can also impact the bed size you choose. Those sharing a mattress with a partner, children, or pets might want the added surface area of a king size bed. That way, no one is likely to feel cramped.
Alternatively, if you don't mind cuddling up next to your partner or pet all night, you might opt for a smaller queen bed. Being up close and personal with those in your bed can make the extra space of a king size mattress feel unnecessary.
If you love your pets but prefer not to share a mattress with them, you might want to consider gifting them cozy dog beds so they can have snooze-worthy sleep of their own.
Room Size
Depending on your room size, you might prefer a king vs. queen bed. Queen beds are suitable for bedrooms of at least 10 x 10 feet. Worried it might be a tight squeeze? There are all kinds of ways to arrange a small bedroom with a queen bed.
Meanwhile, king beds fit most comfortably in bedrooms that are at least 12 x 12 feet, which is typical for primary bedrooms. The bigger bed can add a statement to a more spacious room, especially if you know how to style a king size bed.
Your Height
Standard king and queen mattresses are both 80 inches (or 6 feet, 8 inches) long, so you might not think height factors into the king vs. queen discussion. However, king beds are available in more than one size.
California king mattress come in at 84 inches (or 7 feet) long. With the added length, a California king makes a great option for taller sleepers.
Shop California King Mattresses
Movability
Another factor to consider is how easy it'll be to move your mattress. Although most mattress sizes fit comfortably through staircases and door frames, it's important to take note of the dimensions of your entryways before buying a new bed.
In addition, the added surface area of a king mattress makes it heavier to transport. Lifting heavy objects can lead to low back pain and other injuries. If you live on a top floor or plan to move regularly, choosing a lighter queen mattress might be a better call. For those looking to stay put, a king mattress can be a solid investment.
King vs. Queen FAQs
Have any lingering concerns about the queen vs. king decision? Here are the answers to the most common questions about choosing the right mattress.
Do Couples Need a King Size Bed?
The best bed size for couples depends on their personal preferences. For those who want more space or have a larger bedroom, a king size mattress can be a great choice. Others who don't mind the close quarters or have a smaller bedroom can sleep just fine on a queen size mattress.
How Much Bigger Is a King Than a Queen Bed?
A standard king is 76 inches wide and 80 inches long, while a queen is 60 inches wide and 80 inches long. That means king beds are the same length as queen beds but 16 inches wider, making the surface area of a king bed 1,280 square inches bigger than a queen bed. This added space is great for large bedrooms or people who prefer more room while they sleep.
What's the Difference Between a King and a California King?
The difference between a king and California king is both the width and length of the mattress. While typical king beds are 76 inches wide and 80 inches long, California king beds are 72 inches wide and 84 inches long.
The added length can provide more comfortable space for tall sleepers. In addition, the reduced width makes a California king a more comfortable fit for long, narrow bedrooms than a standard king. Want to learn more about the two king sizes? Read our detailed comparison between a king vs. California king.
What's the Difference Between a Full vs. Queen?
Full mattresses are 53 inches wide and 75 inches long, while queens are 60 inches wide and 80 inches long. Since they're larger, queen mattresses tend to be more expensive than full mattresses.
Full beds are ideal for young adults, guest bedrooms, and couples who like the closeness. On the other hand, queen beds are well-suited for couples and taller individuals who prefer some extra space. For more information, check out the other key differences between a full vs. queen bed.
Once you've decided on a bed size, it's time to pick out the specific king or queen mattress for you.
To narrow down your preferences, you might want to learn about the difference between latex vs. memory foam mattresses, memory foam vs. spring mattresses, and all the other types of mattresses on the market.
No matter where you stand on the king vs. queen debate, choosing the right mattress will have you sleeping like royalty.
The Original
Award-winning balance of softness and support.
The Original Hybrid
Our "sweet spot" option, with 3 layers of cooling, supportive foam. The Original offers impossible comfort and award-winning design.