The best juicer for the money
What's the best home juicer for the price?
Juicing is a convenient and delicious way to get our daily dose of fruits and vegetables and making juice at home is a great way to curb the cost of going to a juice bar every day. Plus, you can craft custom blends and control where your produce is coming from.
While some home juicers can be cost-prohibitive, there are plenty of more affordable options these days that mimic the power and efficiency of pricier models. Below, we've compiled a list of features to consider while looking to purchase a home juicer, plus a few of our favorite picks for under $150, including Breville's The Juice Fountain Plus, a powerful, speedy juicer with an attractive brushed stainless-steel exterior.
Advertisement
What to know before you buy a juicer
Masticating vs. extracting juicer
There are two primary types of juicers: masticating, also called cold press or slow juicers, and extracting or centrifugal juicers.
Masticating juicer: This type of juicer uses an auger to grind the produce and squeezes it through a stainless-steel screen. A masticating juicer works more slowly but tends to produce a more nutritious juice. These juicers are often best for green juices made from leafy greens but tend to be more expensive overall.
Advertisement
Extracting juicer: A centrifugal juicer uses a high-powered motor to rapidly shred produce and release the juice. This process is much quicker than a masticating juicer but tends to yield less juice. Centrifugal juicers do well with heartier produce like beets, carrots and apples but struggle with delicate greens like spinach and kale. They're also considerably less expensive and have large chutes that require less prep than masticating juicers.
Power
Look for a juicer with higher motor power (at least 700 watts and up to 1,000 watts or more). More power means a better ability to handle tough produce like root vegetables or pineapple rinds. This isn't necessarily the case with masticating juicers, however, which operate with lower energy.
Durability
It's worth it to pay a little bit extra up front for a model that will last. If you're replacing the blade every six months, you'll end up spending more money than if you'd purchased a more durable machine to begin with.
Juicer features
Variable settings and speeds
Both masticating and extracting juicers come with variable speeds, which can be used for different produce items. Soft fruits and vegetables do better with slower settings, while harder vegetables like beets and carrots require a more powerful setting.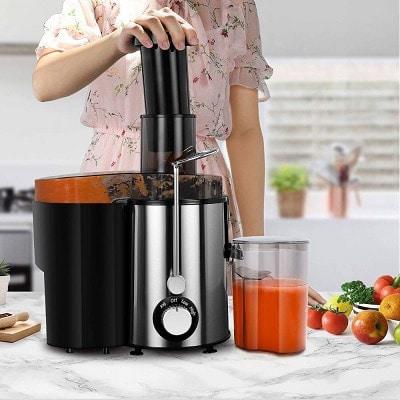 Large chute, pulp basin and juice jug
A large feed chute can accommodate whole fruits and vegetables, meaning you won't have to do as much prep.
A high-capacity juice jug and pulp collector allow you to make more juice at once, which is an important feature for big families or those looking to meal prep juice for several days.
Dishwasher-safe components
A juicer with dishwasher-safe parts is generally easier and more convenient to clean.
Juicer cost
A masticating juicer typically costs $150-$350, while an extracting or centrifugal juicer is around $100-$200. Some centrifugal juicers cost as little as $50. Price varies depending on a number of factors, including power and wattage, durability, modes and settings and user-friendly features like safety locks or automatic shut-off.
Advertisement
Juicer FAQ
Can I use my juicer every day?
A. Absolutely. If you plan to use your juicer every day, look for a model known for durability — as some parts (like the blade in a centrifugal juicer) lose their effectiveness with wear. Consider a juicer that's easy to clean, assemble and disassemble to make it more convenient for everyday use. Look for a juicer with dishwasher-safe parts, a powerful motor and a large chute to limit your daily prep.
How do I prep fruits and vegetables for juicing?
A. How much prep you do depends on what kinds of produce you're using and the power of your juicer. All produce should be thoroughly washed to remove any pesticide residue, dirt and bacteria. Most fruits and vegetables don't need to be peeled, but it's generally best to peel any produce that's not organically grown as it can contain significant pesticide residue or wax that you don't want to end up in the juice. It's also best to remove any hard pits, rinds or seeds. Depending on the size of your feed chute, you may need to cut fruits or vegetables in smaller chunks, so they fit properly through the chute.
Which juicer should I get?
Best of the best juicer
Breville JE98XL The Juice Fountain Plus: available at Amazon, Bed Bath & Beyond and Sur La Table
Our take: A high-quality machine that outperforms competitors at a similar price point in power, efficiency and design.
What we like: A high-powered and efficient juicer with an extra-wide feed chute that can juice whole fruits and vegetables, limiting prep and saving you time. Sleek, space-saving design. Dishwasher-safe parts for easy cleaning. The large-capacity pulp collector and juice jug makes this machine ideal for high-volume juicing.
What we dislike: Blades need to be replaced every nine to 12 months, which adds to its long-term cost.
Advertisement
Best bang for your buck juicer
NutriBullet Juicer: available at Amazon and Best Buy
Our take: An impressive and powerful machine for the price that's suitable for daily use.
What we like: This juicer is easy to operate, assemble, disassemble and clean, making it a great option for everyday use. The sealing juice pitcher means it's easy to store extra juice without using another container. Made from high-quality stainless steel and BPA-free plastic.
What we dislike: The relatively bulky design takes up precious counter space, and the operation is reportedly louder than some other machines.
Honorable mention juicer
Hamilton Beach Slow Masticating Juicer: available at Amazon
Our take: One of the most economical masticating juicers on the market.
Advertisement
What we like: This slow juicer is one of the most affordable we've seen while mirroring the efficiency and user-friendly features of more expensive brands. The simple, sturdy design contains easy-to-clean parts that don't require intense scrubbing like most centrifugal juicers. Three-year limited warranty.
What we dislike: This machine takes up a lot of counter space compared to other models and is a little louder than other masticating juicers.
Katy Severson is a writer for BestReviews. BestReviews is a product review company with a singular mission: to help simplify your purchasing decisions and save you time and money.
BestReviews spends thousands of hours researching, analyzing and testing products to recommend the best picks for most consumers. BestReviews and its newspaper partners may earn a commission if you purchase a product through one of our links.
Distributed by Tribune Content Agency, LLC.