What Are Typical Twin Box Spring Dimensions?
By Staff WriterLast Updated March 25, 2020Follow Us: FacebookTwitter
The dimensions of a typical twin box spring are 39 inches in width and 75 inches in length. The height of the standard box spring ranges between 5 and 9 inches.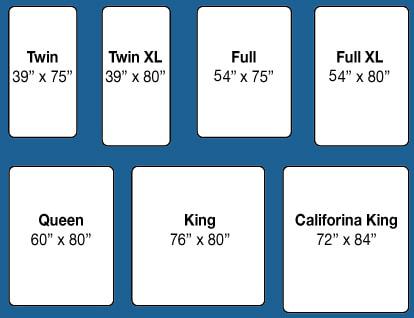 As compared to the standard twin box spring, an extra-long one measures 39 inches in width and 80 inches in length. The standard twin box spring is preferable for children, short people and small rooms. The extra-long twin box springs are normally used in the dormitories of educational institutions.
A box spring with a shorter height is better for children and short people. On the other hand, box springs that are taller are more suitable for individuals with longer legs.
ADVERTISEMENT
MORE FROM REFERENCE.COM
Science7 Ways to Save the Ocean: Actions All of Us Can Take to Ensure a Bluer WorldGeography10 Best States to Retire to in the U.S.World ViewHow to Use a Compass Properly & Other Tips for Camping This SummerHistoryFrom Gilbert Baker to Amber Hikes: The History of the Pride FlagWorld ViewHow Many Tickets Are in a Roll of Lottery Tickets?Pets & AnimalsWhy is Declawing Cats Such A Controversial Practice?