Coffee & Side Tables
Stylish, Modern, Affordable Coffee & Side Table Choices
THE coffee table
The coffee table has always been that functional piece of furniture in the living room to put your cup of tea, coffee and a snack on. Or to store things. But nowadays the coffee table is much more than that. Today, coffee tables (also called cocktail tables) still share the same location in the living room in front of the sofa. Yet, the shape, size, and functionality have changed vastly. They are, just like your corner sofa, real eye-catchers!
The extensive and affordable priced range of THE One coffee tables consists of tables in various designs for different living styles. From round wooden coffee tables to square metal coffee tables that are beautifully finished, to mirror finished coffee table in different colours and faux-marble cube tables. Visit or browse THE One online for a coffee table that suits your taste exactly!
Shopping for THE perfect coffee table for you and your home
At THE One coffee tables come in many different shapes, sizes, colours and materials. It is always a good idea to consider which materials your new coffee table should consist of. Each material has its advantage.
Buy a wooden coffee table if you want a table made from vibrant materials. This will get a nice shine over time. The advantage of wood is that the scratches are not very visible, and it ages gracefully.
If you prefer a coffee table that is modern and timeless, opt for buying a new coffee table made of glass. Glass tables bring a light and airy atmosphere to your living room and you can easily tell when it needs cleaning (for the non-cleaning fanatics, this can of course also be a disadvantage!
You can also opt for veneer. This is also easy to clean, and it will not get greasy fingers on it which is especially an advantage if you have kids.
A coffee table in your interior for placing snacks and drinks? Or are you looking for a design piece to stylishly display the most beautiful decoration? Coffee tables can have different functions in your interior, so you can choose a table with functional storage space. Handy for storing magazines, books and remote controls, for example.
Our coffee tables are made of the best quality materials, suitable for every interior style. With a wide choice of different coffee tables and side tables to match, there is always one that meets your needs.
Make THE One coffee table the central eye catcher of your living room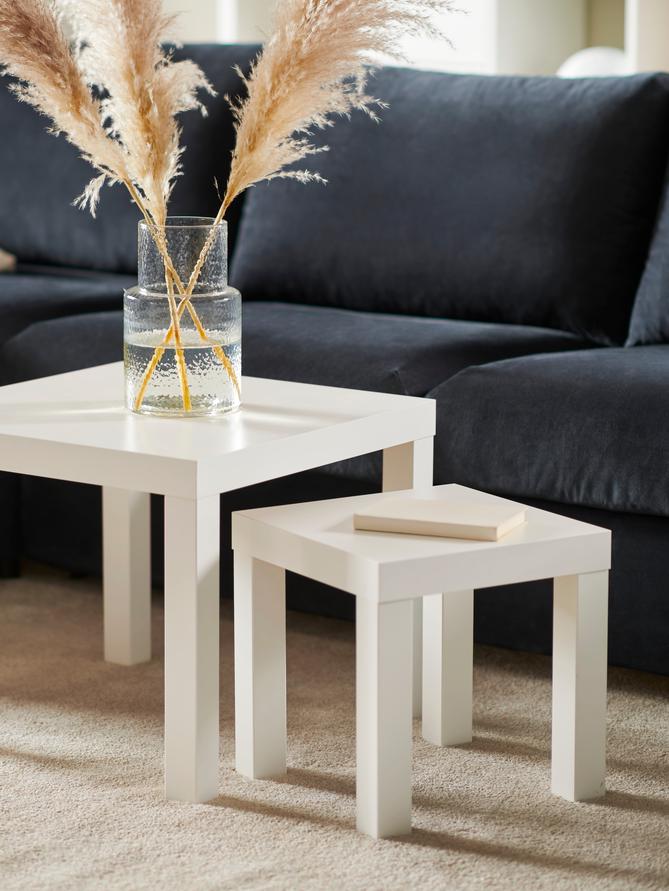 At THE One you will find different types for every interior, from a glass coffee table to a country coffee table, so there is a suitable item for every living style. In the search for the perfect table for the living room, you must take several points into account. Does the table fit in the interior in terms of dimensions? And which material is preferred? Also, important of course is does the coffee table match your sofa and armchair!
Coffee tables are also the perfect place to display your most beautiful things. There are endless possibilities to style your coffee table with flowers, trays, and décor.
You can easily order and buy your new coffee table and other furniture online. You are of course also very welcome to browse and shop in one of our stores. Our team are happy to help you find an affordable, best price, and suitable coffee table for your interior
THE side table
A side (or end) table is practical, cool and multifunctional item of furniture that can be used in several rooms in your house. It is a convenient space for a lighting, drink coasters, your favourite books and magazines. They are ideal as a corner table at the end of your sofa for displaying your most beautiful decoration or usedas a bedside table to put your night reading and table lamp. THE One has a wide range of side tables in various designs, sizes and colours. Whether you are looking for a wooden, glass or wicker / rattan table. Visit our store or shop your new side table online with us.
Side tables that are functional and stylish
A side table can be combined in many ways within your space. A multifunctional table that gives every room a trendy and attractive appearance. With a large collection to choose from, you can easily find a side table at THE One that meets your living needs. Do you have limited space in your living room then you can buy a side table (or several) as an eye-catcher for your living room. With the side tables from THE One you can go in all directions!
From round side tables to cubes, from rectangle to square and hexagonal to cylinders. All THE One side tables are beautifully finished in wood, clear or coloured mirror, metal and glass and more. You can create your perfect combinations to complete your interior.
Buy THE side table at THE One
Found a side table that perfectly matches your personal living style? Simply order online or request a quote. Not quite sure yet? Our teams are happy to help you choose the right table to suit your interior and budget. You are of course very welcome in one of our stores. Together we will find a suitable side table for your interior!
How to style a console table?
How can I easily transform my home for Ramadan on a budget?