Sundress
Lightweight warm weather dress, usually with shoulder strapsThis article is about the women's casual dress. For other uses, see Sundress (disambiguation).
This article relies largely or entirely on a single source. Relevant discussion may be found on the talk page. Please help improve this article by introducingcitations to additional sources.
Find sources: "Sundress" – news · newspapers · books · scholar · JSTOR(July 2013)
Model wearing a red sundress.
A sundress or summer dress is an informal or casual dress intended to be worn in warm weather, typically in a lightweight fabric, most commonly cotton, and usually loose-fitting. It is commonly a bodice style sleeveless dress, typically with a wide neckline and thin shoulder straps, and may be backless. A sundress is typically worn without a layering top and is not usually worn over a blouse, sweater, or t-shirt, or with leggings.
While the word "sundress" was first used in the early 1940s, they really came into vogue in the 1950s,[1] and were especially popularized by Lilly Pulitzer in the 1960s.[2]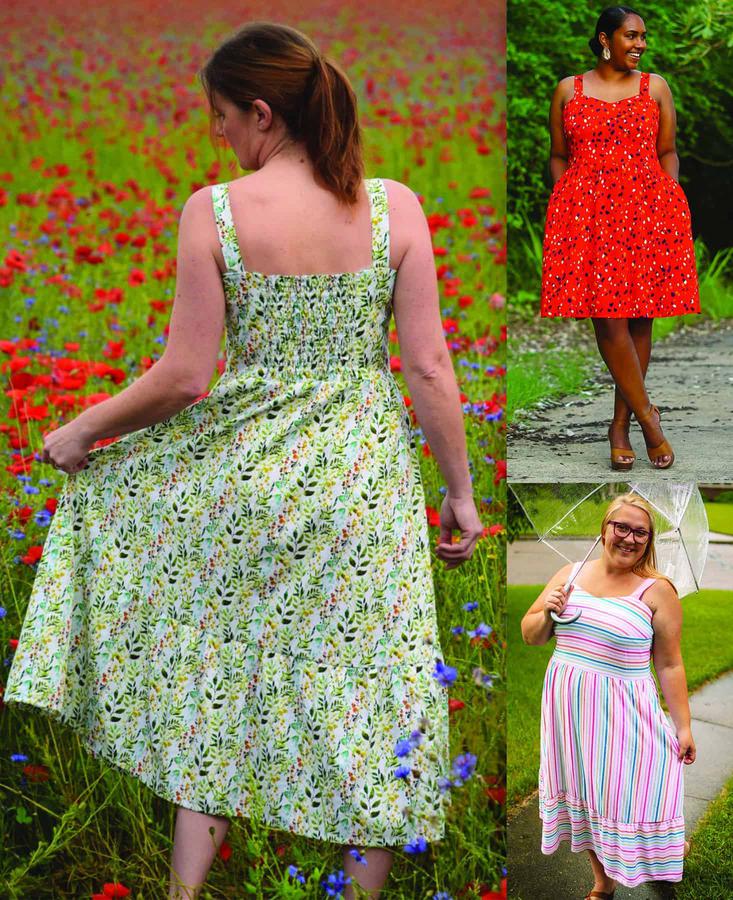 Contents
Current styles[edit]
The sundress is considered by many people to be both more practical and more comfortable than other varieties of dresses, particularly in warm or hot weather.
Sundresses can be of any neckline and hemline, ranging from mini to full length. They are typically sleeveless and collarless, with a wide neckline and thin shoulder straps.
Sundresses can use a variety of closure types, including back zippers, side zippers, front buttons, back buttons, back ties, pullover or other closure styles. They may also be without any closures or fasteners and put on over the head or slipped on by pulling up from below.[3]
Since the 1940s, a sundress-like one-piece swimsuit appeared,[4] which is sometimes considered to be matronly or costumey nowadays.[5]
See also[edit]
References[edit]
External links[edit]
| | |
| --- | --- |
| | Wikimedia Commons has media related to Sundresses. |
Clothing
Headwear
Hat
Helmet
Hood
Kerchief
Turban
Veil
Neckwear
Scarf
Tippet
Tops
Shirt
Sweater
Waistcoat
Trousers
Slim-fit
Sweatpants
Windpants
Yoga pants
Suits and
uniforms
Folk
Jumpsuit
Military
Combat
Pantsuit
Religious
School
Prison
Workwear
Dresses
and gowns

Formal, semi-
formal, informal
Evening
Princess line
Strapless
Wedding
Wrap
Casual

Skirts
Underwear
and lingerie
Coats
and
outerwear

Overcoats
Greca
Over-frock
Riding
Trench
Ulster
Cloak
Paletot
Pea
Polo
Raincoat
Suit coats
Mess jacket
Suit jacket
Tailcoat

Other
Blouson
Cagoule
Cape
Coatee
Cut-off
Gilet
Jacket
Jerkin
Lab coat
Parka
Poncho
Robe
Shawl
Ski suit
Sleeved blanket
Windbreaker

Nightwear
Swimwear
Footwear
Legwear
Accessories
Dress codes

Western
Semi-formal
Informal
Casual

Related
Laws
Terminology
Clothing portal
| | |
| --- | --- |
| | This clothing-related article is a stub. You can help Wikipedia by expanding it. |