The Shoes You'll Want to Wear With Every Sundress This Summer
byKit Kilroy
Among the many reasons sundresses are our go-to as summer approaches, the ease and comfort with which they can be worn and styled is high up there. However, while throwing on a sundress is an undeniably effortless process, figuring out which shoes to wear with it might not come as easy. When your flip-flops feel a little too casual, heels may ruin the ease that makes sundresses so appealing, so it can be hard to figure out what shoes will work, which is why we've rounded up the best options. Keep reading to learn about the six types of shoes you'll want to wear with sundresses all summer long.
1. Classic Sneakers
For a casual, sporty feel, pair your sundress with some classic white sneakers. Already an essential, sneakers somehow work with even the most romantic of dresses. Not only do the shoes add an unexpected twist to a nicer outfit, but they're also comfortable—always a plus.
Photo:
Getty Images
WHO: Selena Gomez
Shop:ReebokClub C 85 Classic Lace Up Sneakers$70Shop NowVejaCampo Sneaker$165Shop NowVejaEsplar Low Sneakers$120Shop NowNikeAir Force 1 Sneaker$90Shop Now
2. White Boots
White makes everything look a little more summery. For a look that's sleek and on-trend, pair a shorter dress with white statement boots. As Kendall Jenner and Bella Hadid always prove with their chic outfits, going with a completely white ensemble keeps this monochromatic look feeling chic rather than boring.
Photo:
Getty Images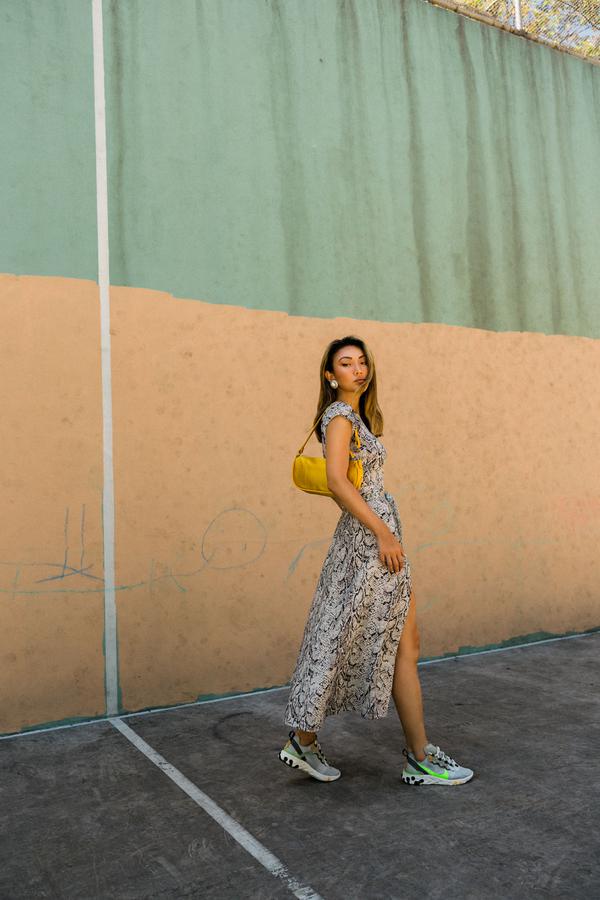 WHO: Kendall Jenner
Shop:Jeffrey CampbellDagget Western Boot$259Shop NowMiaJonna Lug Sole Chelsea Boot$79Shop NowOff-WhiteFor Rainy Days Sponge Sole Chelsea Rain Boot$570Shop Now42 GoldKensington Chelsea Boot$160Shop Now
3. Ankle Boots
Add a bohemian vibe to any summer sundress by pairing it with boots that hit right at the ankle. A more fashionable alternative to thongs, ankle boots can turn an easy summer outfit into a full-on free-spirited look.
Photo:
Getty Images
WHO: Kate Bosworth
Shop:Rag & BoneShiloh Boots$525Shop NowZaraCowboy Split Leather Heeled Ankle Boots$89Shop NowH&MZip-Front Boots$49Shop NowChinese LaundryDavinna Bootie$80Shop Now
4. Silver Sandals
Silver sandals are the way to go when searching for shoes that let a dress be the main focus without feeling boring. Sparkly on their own terms, silver sandals are neutral enough to pair with any dress but fun enough to avoid feeling monotonous.
Photo:
Getty Images
WHO: Miranda Kerr
Shop:Freedom MosesTwo Band Slides$45Shop NowSam EdelmanKia Ankle Strap Sandal$139Shop NowChelsea ParisAce Sandals$345Shop NowStuart WeitzmanGoldie Jelly$150Shop Now
5. Tan Sandals
To really showcase a dress, tan sandals are your best bet. Choose a pair with chunky heels if your outfit needs height or flat slides for something more comfortable and laid-back.
Photo:
Getty Images
WHO: Candice Swanepoel
Shop:Saint LaurentTribute Nu Pieds Slide Sandal$595Shop NowOpen EditCora Heel Sandal$49Shop NowMangoLeather Straps Sandals$59Shop NowChloéLogo Slide Sandal$475Shop Now
6. Bright Flats
While nude sandals are a great basic to pair with any dress, changing it up with a pair of bright flats can completely transform a look. Adding a bright pair of flats is an easy way to buy into a new-season trend without going all out.
Photo:
Getty Images
WHO: Karlie Kloss
Shop:ZaraHeeled Woven Sandals$69Shop NowCircus by Sam EdelmanJanis Slide Sandal
$85
$58Shop NowNeous80mm Jumel Sandals$850Shop NowSchutzMarih Platform Wedge Sandal
$118
$70Shop Now
This post was published at an earlier date and has been updated. Up Next: An 8-Piece Summer Wardrobe at Every Budget